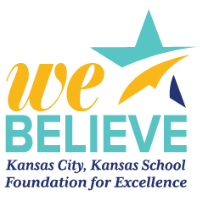 Day of Giving: September 19, 2022 
With students and educators continuing in-person learning for the 2022-2023 school year, they need the support of their community now more than ever.  
Show them that their community believes in them and their futures by supporting the Kansas City Kansas School Foundation for Excellence's We Believe campaign.  
Funds from We Believe will provide vital support for students, families, and educators through programming that supports academic achievement, grant opportunities for teachers and families, and scholarships for graduating seniors. 
We believe in Kansas City's public schools and the teachers who lead our children to success.  Your donation today will show that you believe in them too.  
Thank you in advance for your generous support that allows us to make a difference in the lives of thousands of people and their families within the Kansas City, Kansas School District each year.
Thank you for considering a gift to support our students and teachers.