Chonita Madison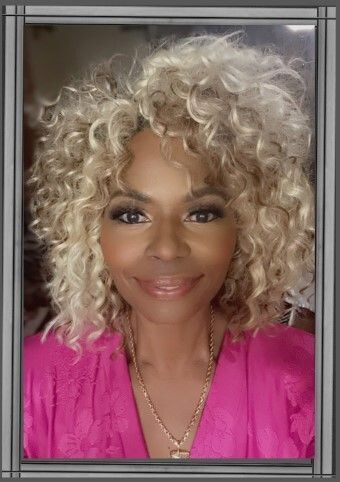 As a seasoned and successful Stylist with over 35 years of industry knowledge, Chonita is best known for her creativity, resourcefulness, and passion for styling hair and fashion.  It is a common observation within the Kansas City area to recognize the clients of Chonita by the healthiness and latest vogue styles: a gift that began naturally at a young age. 
At a young age, Chonita and her family recognized her artistic gift for styling hair, recounting that every doll she owned had a new hairstyle daily.  "By the age of 8, I understood shaping through cuts and would clip and style my doll's hair so often, they needed replacing because they had no more hair to cut."   
After receiving the Who's Who Among American High School Students, Chonita obtained her Cosmetology Certificate from Kansas City Area Vocational-Technical School (AVTS) in 1987.   At AVTS, her Instructor, Mrs. Sedlock Simms ------- recognized Chonita as cut above the rest.   Mrs. Simms called J C Penny Salon, saying, "I have a good one for you."   This opportunity provided formal hands-on experience in learning advanced coloring, cutting, and styling from well-renowned professionals such as Wella, Ms. Clarol, Nexxus, and Paula Mitchell.   Chonita is forever grateful to her beginnings and mentors at AVTS.  
After J C Penny, Chonita quickly propelled and was in demand as a professional stylist in the Kansas City area, leading to Unique Inc.'s opening in 1994.   She gained and built a legacy of 100+ loyal clientele while becoming a pillar of style, fashion, and hair within the community.   Her dedication to serving the Kansas City area is seen through her salon expansion of over 3300 sq ft. salon and relocation to the corner of 30th and State Ave. 
35+ years later, Chonita credits her wide-ranging knowledge and education as the key to her success.   Her analytical skills, innate creativity, and focus on the customer experience help to craft flattering cuts, coloring, and perfectly tailored styles to each of her clients.  Unique Salon and Day Spa's mission is to provide women of color with a hair care experience by providing impeccable customer service, quality products, and styles that cannot be replicated.  
Chonita prides herself on drawing inspiration from the new salon by stepping out on her faith in God and the joy of her twin sons, Taylor and Tylor.  Chonita's motto is: "With God, there is hope."